Hotchkiss National Fish Hatchery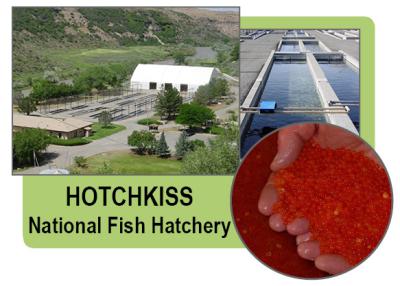 Visitors Center Hours: 7:30 a.m. till 4:00 p.m. seven days per week
Group tours: 872-3170
A must stop for families with kids, and for anyone interested in how fish are raised and stocked in Colorado's rivers, lakes and streams, is the Hotchkiss USFWS National Fish Hatchery. The hatchery is located about four miles southwest of Hotchkiss on the North Fork River below the unincorporated town of Lazear.
To get there just turn south from Hwy 92 on 3100 Rd. at the Lazear sign. Proceed through the Town of Lazear (after a stop at the charmingly rustic Lazear General Store and Post Office) and follow the signs to the Hatchery. The hatchery consists of a hatchery building with a small visitor center and tank room, residences, 32 outdoor concrete raceways, 24 nursery tanks, and 6 earthen ponds.
If your timing is good you can see thousands of trout ready to be shipped out. The hatchery produces and stocks over two million trout into regional waterways.
As the aquatic habitat changes due to natural (drought, flood, habitat destruction) or human (over-harvest, pollution, habitat loss due to development and dam construction) influences, the reproduction of fish in the wild declines. Stocking of fish is one of the many management strategies used by biologists to help replenish the populations for years to come.