North Fork Valley Wineries & Breweries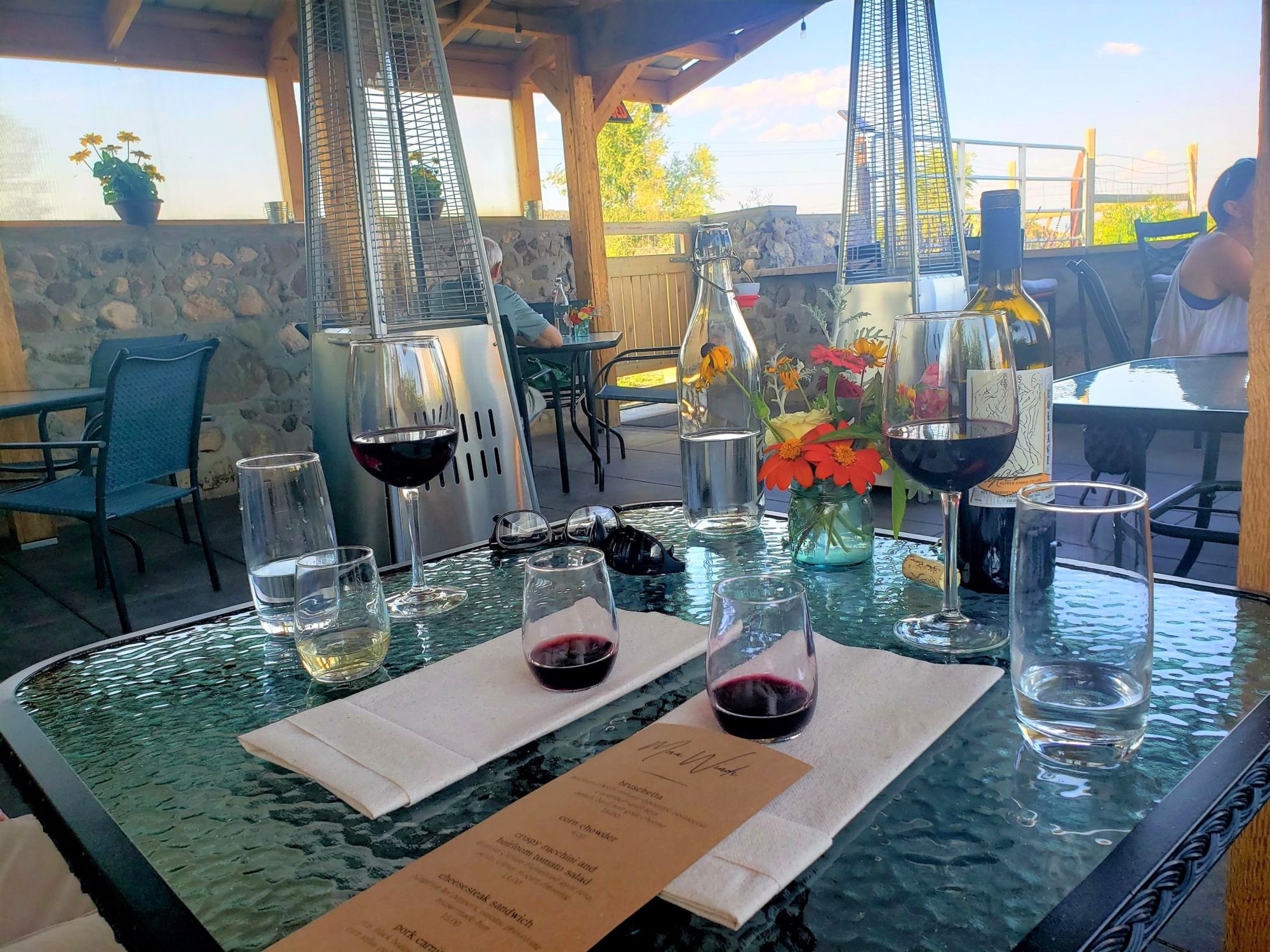 Click on links below to visit winery websites.
As recently as the mid-90's there were no wineries in the North Fork Valley at all. Now there are over a dozen and the interest in their output is growing fast! Winery visits (and agriculture in general) are now a big part of the reason visitors come to the North Fork Valley. While it may be tempting to question the wisdom of grape growing at elevation, the fact is that warm days and cool nights help to concentrate sugars in the wine grapes, resulting in a superior end product! All of our wineries are relatively humble in size. Some are not even open to the public, while a notable few produce not only very fine wines, but also offer a memorable experience to the visitor. Paonia also sports two well-regarded breweries. Below is a list of wineries and breweries with links to their websites.
Hotchkiss:
Mesa Winds Winery
- Lovely farm location west of Hotchkiss. Noteworthy food offerings too!
Leroux Creek Winery
- Southwestern-style adobe winery on a gorgeous property. Tastings by appointment only.
The Storm Cellar
- Tasting room on site.
Jack Rabbit Hill Winery & Peak Spirits
Paonia:
Azura Cellars
- Unbelievably beautiful Italian style winery with an art gallery and patio with amazing views of the Valley. Small plates served.
Stone Cottage Cellars
- Picturesque stone cottage serves as tasting room. Small plates served.
Black Bridge Winery -
Sip wine and enjoy their orchard fruit while sitting on the banks of the North Fork River.
Qutori Wines & Root & Vine Market
- Attractive location on the highway right outside Paonia. Nice patio and food offerings.
Puesta Del Sol: Alfred Eames Winery
- Tastings by appointment only - and worth it!
5280 Winery - Tastings by appointment only. 970-527-6476
Big B's Hard Cider
- Two miles west of Paonia right off the highway. This is a destination! Cafe and farm store too plus weekend live music.
Paonia United Brewery (P.U.B.)
- Local craft beer in a converted church just north of downtown Paonia. The hip crowd can be found here.
Chrysalis Brewery
- Well liked brewery just off the main street in Paonia.
​
For information on the West Elks AVA - the official wine region designation,
click here.
To download area winery map,
click here
.
North Fork Valley Orchards
If you are craving fresh peaches, apples, cherries, apricots, pears, berries and much more, then there are two orchards that top the list for a visit. The First is
Big B's/Delicious Orchards
just about two miles west of Paonia on Highway 133. This is a charming, funky & agri-hip destination. There's a very nice farm store featuring goods from the farm along with at-the-source farm fresh ciders and hard ciders. If you arrive in September or later make sure to get the unpasteurized "cold pressed" cider – hard to beat! Big B's has a hard cider following big enough to warrant a hard cider festival in October. There is a sweet little on-site café with tasty and creative food and outdoor seating under a canopy of trees - even tire swings for the kids (or playful adults). Big B's has regular Friday night live music events during high season (summer & fall) featuring regionally and nationally known touring acts. Fruits and veggies are available pre-picked or pick-your-own. Worth the stop for several reasons.
Our second excellent orchard suggestion is
Orchard Valley Farms & Black Bridge Winery.
Accessed a quarter mile south of Highway 133 just east of Paonia. Orchard Valley Farms is a good pick for "pick-your-own" goodies… they have it all and the peaches are amazing! There's a great farm store with local fruit and veggies, culinary treats, as well as a tasting room for the wineries' output. One of the nicest features is the location on the banks of North Fork of the Gunnison River. There are Adirondack chairs right by the riverbank – a great place to sip wine or eat a peach! There are plenty of other orchards in the area that are less focused on direct sales, but may be worth checking out.
And don't forget farmer's markets! Every Saturday in Summer and through October, there is a farmer's market hosted at the
Creamery Arts Center
in downtown Hotchkiss. The market runs from 10am - 2pm. In Paonia, check out
Arbol Farmer's Market
Tuesday evenings (5-8pm) from mid-May to mid-October at Paonia Town Park. Markets feature live music, wine tasting and a community meal in the shady park! Crawford Farmer's Market is due to debut in the summer of 2022 in downtown Crawford next to Crawford Creative Gallery.