Fishing in the North Fork Area…
Grab your fishing pole and come to the North Fork Valley…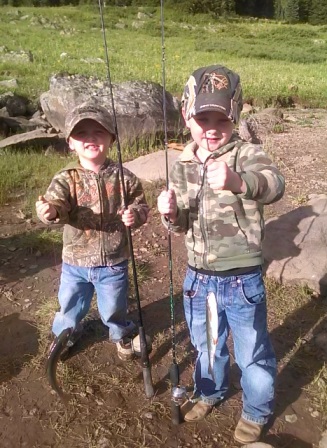 If you have a habit of looking for signs of aquatic life whenever you are in the presence of a body of water, then you will likely be glad to know that The North Fork Valley has plentiful opportunities for you to pull out that fishing pole…
In fact, even before you hit the water you may want to pay a visit to the
Hotchkiss National Fish Hatchery
, just a few miles west of Hotchkiss. If you wonder where some of the scaly wildlife of western lakes and rivers started their journey, this will be an interesting stop for you.
For the real experience of fishing, try the
Crawford State Park
, the
Paonia State Park
, or the North Fork of the Gunnison River.
If you want a guided trip, check out the business directory for
Crawford
,
Hotchkiss
or
Paonia
for more information.
Fishing Licenses
Fishing licenses can be picked up at Weekender Sports in Hotchkiss, The Gunnison River Pleasure Park west of Hotchkiss, Paonia Farm and Home Supply, The Crawford Country Store, and the Desperado just south of Crawford.