Come see Crawford as a pioneer…
Current Event Information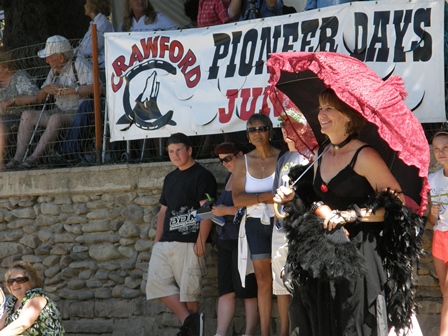 Maybe you grew up in a small town and remember how much fun it was when there was a community celebration – seemed like the whole town turned out for the big day!
Crawford's Pioneer Days, like many small town community celebrations, really does hold a type of magic that orchestrated big town events can't reproduce.
The weekend includes an Old Fashioned Melodrama, benefit auction, baking contest, Fire Auxiliary BBQ dinner, Fireman's pancake breakfast, parade, horseshoe tournament and outhouse races.
Round out the evening at the Street Dance. The grand finale is the Saturday evening fireworks display over the lake at Crawford State Park… Nothing compares to seeing fireworks reflected in the lake while hearing booms echo off the surrounding mountains!
Over three decades old, this is a true grass-roots community celebration. No big advertising budgets intended to lure in city folk. No pretension, no glitz… Success is measured not by the size of the crowd, but by how many of the neighbors show up.